Accreditations
Lake Montessori is proud to be a partner with the American Montessori Society. AMS is a membership organization, a collaboration of teachers, administrators, schools, families, and others who prize Montessori education.
As an AMS Partner Member School, we proudly support our common goals:
ensuring high standards for Montessori schools and teacher education programs
providing professional development for Montessori teachers
raising public awareness and understanding of Montessori education
As an AMS member, we are part of a movement to improve education for children around the globe, with representation at the United Nations and a strong advocacy voice in public policy affairs.
Each classroom at Lake Montessori has at least one AMS Member guiding students.
For more information on the American Montessori Society, please visit http://www.amshq.org
---
AdvancED is the largest community of education professionals in the world.
For more information about AdvancED, please visit https://www.advanc-ed.org
---
The American Mathematical Society (AMS) promotes the mathematical sciences through research, advocacy, and awareness programs. AMS provides materials and services to schools to help students get excited about mathematics, making them a perfect partner for our Montessori school in Leesburg.
For more information about the American Mathematical Society, please visit https://www.ams.org
---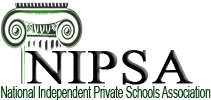 The National Independent Private School Association (NIPSA) is dedicated to providing children with the best education possible. That's why they spend so much time focused on improving the quality of accredited schools with structured educational models and materials, as well as consulting services, workshops, and conferences for educators.
For more information about the National Independent Private Schools Association, please visit http://www.nipsa.org